Welcome to the official Fromanteel Investment Blog, a place where you can be kept up to date on the progress, news & insights of our investment round. Fromanteel is scaling towards a global presence and welcomes investors seasoned or newbies to become co-owners of our brand. Register now to gain access to our investment page.

By registering, you're not obligated to invest
Over €150,000 raised - thank you to our investors so far!
It's been a wild ride since we launched our Fromanteel funding campaign. And before we take a short (and well-deserved) break for the summer, we'd like to take the opportunity to thank all of our amazing supporters, who have collectively raised over 150,000EUR - an incredible achievement.
We're halfway towards our target, and we couldn't have got this far without you! But we have more to achieve.
On Tuesday, we held a 'Meet and Greet' for potential investors at Fromanteel's head office. We shared our vision, our financial goals, and how we will be scaling Fromanteel to the next level.
We spoke to a few of you about our entrepreneurial journey, how and why you came to be interested in Fromanteel, and the craftsmanship of our beautiful watches.
If you missed out, don't worry! Here are some of the most frequently asked questions that investors have asked throughout the campaign:


Why are Fromanteel issuing shares?
In order to expand the company further and execute its growth strategies, Fromanteel needs capital. From day one, it has been Fromanteel's goal to become a community-driven company.
As a shareholder in Fromanteel, you own a piece of the company and profit in its growth. Co-ownership forges a stronger relationship between the company and you, its stakeholders. You become Fromanteel's most important ambassadors and the people we turn to share our mission and vision all over the globe!
How are your watches made?
They are made in Switzerland to the highest production standards. In order to achieve the highest possible quality, they follow a rather meticulous production process, which was defined at the turn of the 19th century in the 'Ordonnance du 23 décembre 1971.
The company was created in 2009, so good things can come out of recessions! Our drive, passion and commitment to our vision has meant we have successfully built a thriving luxury watch business with an army of fans.
There's still time to invest if you were thinking about doing so.
Simply fill out the registration form, and it will take you to a calendar schedule. There, you can arrange a time to chat to one of our friendly investment team.
By registering, you're not obligated to invest
*we will share detailed financials with you once you become an investor
Why invest in Fromanteel now?
There's no doubt things have changed rapidly since the pandemic. Inflation is rising around the world, gas and oil prices are going up, and we are only just getting back into the swing of traveling after a difficult couple of years.
People are hesitant to spend money; and understandably so. We do not know what the future holds for the global economy.
However, if you are already an investor, or are thinking of investing, you're likely to be looking at opportunities that you're passionate about and that have a longstanding fan base.
Here's several reasons why we believe now is the perfect time to invest in Fromanteel:
1. A loyal fan base
Fromanteel has a huge amount of loyal fans and followers. As well as a 30k mailing list for our Fromanteel Members, we also have 32,000 Instagram followers, and over 4000 business contacts on Linkedin.
We have built up such an impressive reputation because our fans are loyal to our brand. Once they buy a Fromanteel watch, they fall in love. And then they want another watch, and perhaps they buy a watch for their grandfather, or for their brother… and then our community grows.
Because we have such a strong focus on networking and building relationships, Fromanteel club members know they are also getting something extra. It's not just about a watch - it's about having access to a group of people who are passionate about luxury, business and investing.
You'll meet some great connections at our events; so the investment may be far more lucrative than normal!
2. A 400 year old history
In these frugal times, it's important to align with things that have stood the test of time. And our watches have a rich 400 year history.
Did you know the Fromanteel brand dates back to 1607, when Ahasuerus Fromanteel, the first clockmaker in his family, was born?
In fact, in 1660, the Fromanteel family opened their workshop on Dam Square in the heart of Amsterdam, making them one of the first multinational clockmaker firms in the world.
The coordinates of this workshop can be found on our Globetrotter watches, in celebration of this amazing achievement.
Hard times come and go, and have done since then, but Fromanteel and watchmaking from Amsterdam have lasted all this time.
This is because 'quality time', the brand message of Fromanteel, has been loved by generations ever since, spanning the last 400 years.
3. Valued at 3 million
We're a business valued at 3 million, and expected to grow to 5 million in the next three years* - even after the disruptions of the pandemic.
The team here are incredibly grateful and thankful for all we've achieved so far - the watch collections, the in-person events, the amazing feedback we have got from investors, but it's time to go even further!
We have some incredible investors backing us already, and have already invested 600,000 EUR into the business.
This will help us lay the foundations for growth and scaling - but it's time to take Fromanteel to more people - after all, everyone deserves to have such a quality timepiece on their arm.
4. Netherlands as the EU gateway
It's easier than ever before to do business in Amsterdam. Just a couple of hours from France, Belgium and Germany, and 4 hours by train from London, the Netherlands has unrivaled potential when it comes to European trade and networking opportunities.
The Netherlands is known as the 'EU gateway', because there are more opportunities to travel through and via the Netherlands than any other country in Europe. It is surrounded by some of the wealthiest countries in Europe, and will always be popular with tourists and business owners.
During a time when many people are traveling more sustainably, the Netherlands is extremely well connected. We want to make sure that you have the opportunity to do more networking in person, and connect with new people to do business with.
With our plans for Fromanteel club stores, it will be easier than ever to network with entrepreneurs from around Europe, and then hop back on a train or plane to your home country in one day.
5. Quality of our product
Right now, it's more important than ever to invest in quality. With people holding onto their reserves, they don't want to invest in a watch that falls apart after just a couple of months.
Designed in the Netherlands and made in Switzerland, our watches are made to a high standard of excellence.
What's more, they're at an affordable price point. In years to come, as recession looms, we can see that people will want a watch that lasts years and years, but looks fantastic on the wrist.
Right now is the perfect time to stop with throwaway culture. No-one wants poorly designed watches that are bad for the environment. Fromanteel has luxury, quality, and longevity on its side.
As you can see, Fromanteel has an impressive history and reputation, making it an ideal investment candidate.
Are you ready to take the leap and invest?
By registering, you're not obligated to invest
*we will share detailed financials with you once you become an investor
Fromanteel plans:

Where does the investment go?
We have big plans here at Fromanteel. With over 300 eager investors already onboard, we are shaping up our plans to build upon our success to date.
Firstly, we'd like to say a huge thank you to each and every investor for believing in us - we're ready to take the next steps into an exciting future and making things here at Fromanteel even better!
As a luxury watch brand with a 400 year old history, we are focusing on the following areas using the investment capital:
Fundamentals - Storytelling - Scaling

Let's take a look at these in more detail.
Fundamentals:
Fromanteel already has a strong base:
It's a business valued at 1million
We have 32,000 Instagram followers
Over 115,000 Facebook Fans
And 30,000 Fromanteel Club Members.
But there's always room to make it stronger, right? So what we are looking to achieve is to strengthen our offerings - building our working capital so we have a 'never out of stock' availability on all of our watches.
We also want to recruit - to get the very best minds in marketing, PR, I.T and business in order to continue to improve our reach and get the word out to more people about the beauty and affordability of our watches.
Lastly, we're keen to open our own brand store. Those of you who are club members know that Fromanteel is like a family, and we want to continue to offer exclusive perks to them by eventually opening a Club House. This will be a physical space in which members can network and collaborate with other luxury watch enthusiasts!
Storytelling :
Next, our aim is to build on our storytelling.
Fromanteel has such an interesting history - not to mention fascinating craftsmanship, so we'd like to develop our storytelling using the investment capital in order to really highlight how very special our watches are.
We want to expand on the Fromanteel Club Membership, and in addition to the 'Club House', we want to bring all of our members together in person - something that we have missed so much over the last few years.
Imagine engaging, interacting, networking with some prolific investors who all have the Fromanteel brand in their portfolio… who knows what interesting people you might meet?
We'll capture content from these events, interview investors, and provide exclusive events that you won't want to miss out on.
Scaling:
Finally, we want to scale.
Fromanteel has already established a great presence across Amsterdam, the rest of Europe and the US - but with more investment, our dreams of a physical store can be realised.
You might be walking into a Fromanteel store in Boston, or flying over to London to have a meeting and browse the latest Fromanteel watches.
Our aim is for Fromanteel to become more established physically - with a range of physical stores all over the world, and online too - to build our already impressive reputation on the journey towards 1 million online Fromanteel fans.
Our elegant, beautiful watches can last a lifetime - and at an affordable price point, many people are now looking for something of quality they can invest in. No more throwaway fast fashion. No more ridiculously expensive timepieces that break the bank.
Fromanteel is a trusted brand - it's seen as a well crafted, beautiful watch. That's what our customers love, and we want to share that with more people who believe in us.
We look forward to sharing updates with you along this journey!
If you haven't already invested, why not sign up today?
By registering, you're not obligated to invest
Why Just Own a Watch, When You Can Own The Company?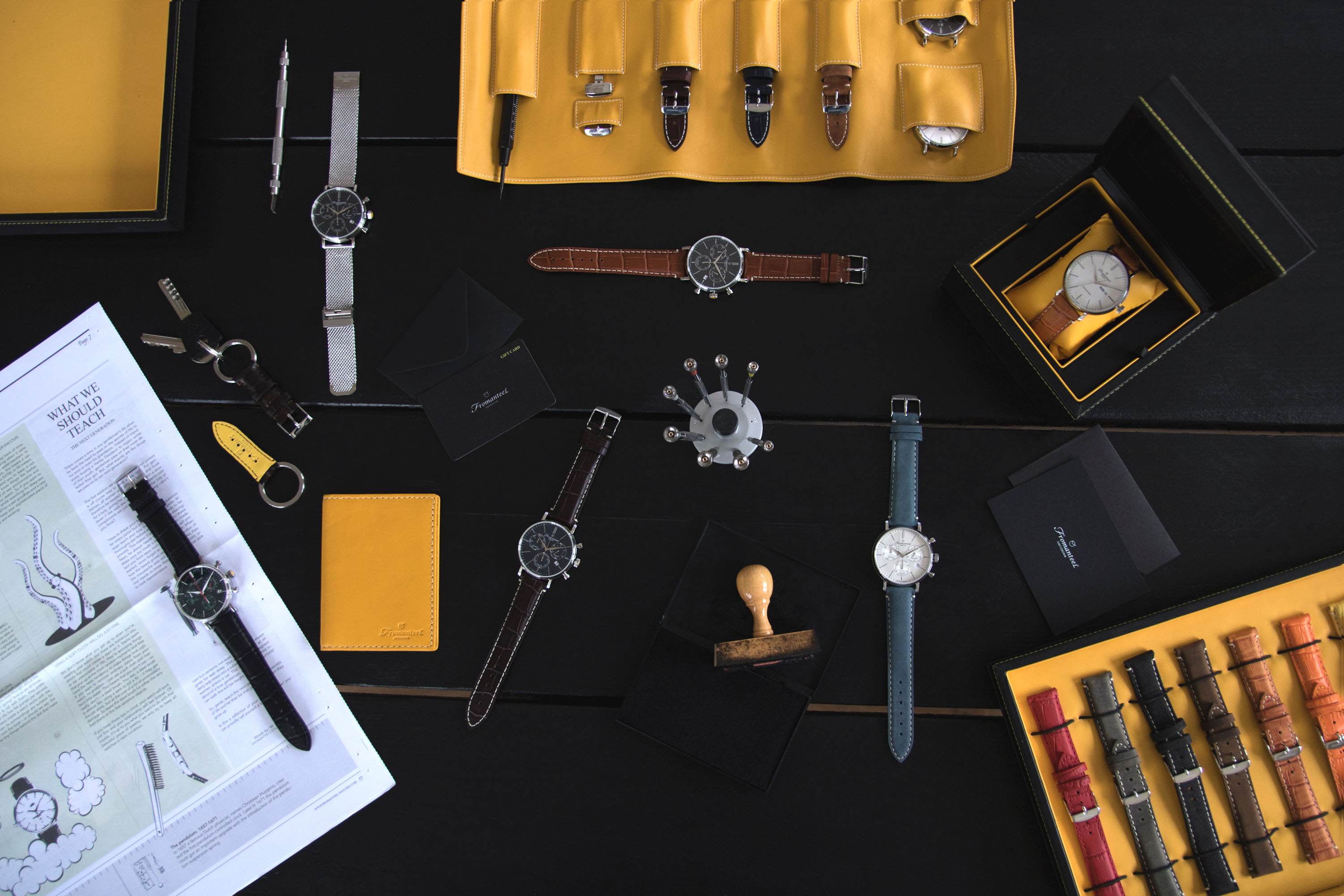 Be part of Fromanteel's exciting future - from as little as 250 EUR
You love Fromanteel watches. Maybe you've purchased one or two over the years, and enjoy the feeling of being a luxury watch owner. But why settle for just owning a watch. Now, you can become a co-owner of Fromanteel!
A couple of years ago, we opened our first round of fundraising. And we've done really well. More than 300 investors have already invested over 600,000 into the company.
Now we have teamed up with Eyevestor, and have a really exciting opportunity for investors and those that are passionate about Fromanteel. You can invest from 250 EUR right up to 10,000 EUR - or anything more that you would like to invest!


The Investment Tiers as a Co-Owner
Let's take a look at the different levels of investment.
We've made it super simple to invest.

Depending on your level of risk, you can start your investment journey from just 250 EUR. What's more, the first 200 investors to sign up get a 100EUR Fromanteel voucher!
Whether you're brand new to investing or are a seasoned investor - adding Fromanteel to your account is a great choice for your portfolio.
Where will your money go?
We have big plans here at Fromanteel!
Our aim for the funding round is to invest in three different areas of the business - fundamentals, growth, and scaling. Each area will help us continue our path to building a strong, luxury watch brand that our customers love.
We want to continue building a strong foundation by focusing on the fundamentals of business operations.
Next, some of the investment funds will be used to further grow and expand our offerings, and give exclusive rewards to our community.
Finally, we will be scaling the growth of the company! Fromanteel has a strong brand, with many customers being loyal for many years. This is something we want to share with more people, so they can get the opportunity to own a luxury watch at an affordable price point.


The Benefits of Becoming a Co-Owner
1. Join an exclusive investor community
2. Get access to exclusive Fromanteel rewards
3. Have your say in the company's future
4. Be part of an exciting vision
Why did we choose Eyevestor?
The Eyevestor platform is a secure platform that can help people get started with investing and help companies scale to the next level.
Eyevestor facilitates contact between the investor and the company, as part of the investor community.
It's well trusted by many entrepreneurs and startups, and you can invest from a small amount to a large amount - even if you've never invested before, it's easy to get started.
Ready to invest? Sign up today
By registering, you're not obligated to invest
The moment we take a step back and look at what has been unraveling the past couple of days, we're overwhelmed by emotions. We're proud of what we achieved, honored to welcome yet new shareholders, and highly motivated for the future.
In this article, we'll look back at the first couple of days of funding and bring these lessons with us in the next chapter of our funding story.
We noticed and established a solid plan for our future with the knowledge gained in the past decade. It was time for Fromanteel to give our growth a boost and thus raise additional capital. There are various ways of raising money, but we felt that we should stick close to what made Fromanteel grow in the first place: our community.
In collaboration with sharefunding platform Eyevestor.com we set up the foundations of our investment round. That meant forming an Investment Cooperation, having a pitch deck in place, sharing our financials publicly, creating all the right content, and starting the first conversations with seasoned investors.
We learned a ton in setting up our investment round, but we could never expect the amount of interest we saw after making our first announcement. The moment we informed our club members (30.000 at the time) about the upcoming investment opportunity, we immediately received numerous registrations.
After the registrations were in, it was our turn to inform our registrants about Fromanteel, our plans, the team, and what moves us. We will do so through various blog posts such as this, AMA video sessions (e.g. Ask Me Anything), and dozens of private phone calls with investors.
Again, we realize that the real value lies in creating that personal connection with our investors. You would be surprised by the number of calls we had that lasted for close to an hour where we mutually connected on several levels but most importantly because of the love for watches.
As an investor in a watches brand, assumingly, you must have a specific interest in watches, but the level of dedication our investors have for watches is unheard of.
We knew we had to do something special for those who genuinely believe in our brand, and what better way to reward watch lovers than by rewarding them with a watch?
So we got our designers together and came up with a unique investors' edition watch for anyone investing more than €5.000 and one exclusive automatic watch for those investing above €10.000.
Anyone who wears a Fromanteel watch gives us a special feeling, but those walking around with an investor watch are of a rare breed. Instead, they're part of a particular group of brand ambassadors that took skin in our company.
On top of that, we'll be actively pursuing our referral campaign where investors are rewarded with additional shares for bringing in new Fromanteel shareholders.
It's safe to say that we have an enormous workload ahead of us. Luckily your heartfelt enthusiasm allows us to enter this intensive period with great energy to make sure we strive for new highs.
We're excited and hungry to close this round with a blast. The moment we reach our target of €500.000 is the day that Fromanteel will officially be among the companies that can call themselves crisis-proof. After that, the only limit we have left is the sky, right?
By registering, you're not obligated to invest
CHOOSE A INVESTMENT TIER & GAIN EXCLUSIVE REWARDS



You can invest starting from 250 euros, and depending on the size of your investment, we offer something fun in return.

Register Now & Gain Access to the Investment Page. Registrations are not considered binding or obligatory to invest in and can be canceled at any time.

Contact us at investor@fromanteel.nl or +31 (0)20-8200 930 to get all your questions answered.

Early Bird Exclusive - The first 200 investors receive a Fromanteel voucher of €100!
Co-ownership of Fromanteel
Fromanteel voucher of €100
Co-ownership of Fromanteel
Fromanteel voucher of €300
Co-ownership of Fromanteel
Special Edition Investors' watch worth: €450
Co-ownership of Fromanteel
Special Edition Investors' Automatic watch worth: €1500
Co-ownership of Fromanteel
Special Edition Investors' Automatic watch worth: €1500
Diner with both Founders
+ hotel accommodation for two.
First and foremost: Thank you!
We will confirm your registration and notify you when we launch our investment page on Eyevestor.com by e-mail.






Fromanteel Watches BV
Keizersgracht 241-3 | 1016 EA | Amsterdam | The Netherlands
Tel: +31 20 8200 930 | Open from Mon - Fri 10 am - 05 pm (CET)
Copyright © Fromanteel ®. All rights reserved